Earlier in the year I was contacted by a client down in Broadstone (a town supposedly named after a local legend) to revamp 100 square metres of black Limestone patio, which hadn't looked right ever since it was first laid. The main problem was water ingress where water had been allowed to seep into the stone due to a poor sealing job. This had caused natural salts to form, and the resulting rough surface had collected grout haze at installation. I decided to run a test on a small patch of the patio to determine the best methods for cleaning and removing the grout haze.
Cleaning Limestone patio with water ingress and grout haze
I decided to conduct my test on just one square metre of the Limestone patio. First of all, I used Tile Doctor Grout Clean Up on the grout, a cleaner which helped to remove the grout haze by penetrating beneath the surface and lifting the muck out.
After cleaning the grout I moved onto cleaning the tile itself, using a solution of Tile Doctor Pro-Clean and clean water in combination with a black buffing pad. After achieving some great results with this cleaning method, I left the test area to dry completely before the seal, as any excess moisture left on the surface could potentially affect the performance of the sealer.
Sealing the Limestone patio
My choice of sealer was Tile Doctor Colour Grow. Colour Grow is a multi-use product which works well on both internal and external unpolished surfaces. One of the great things about Colour Grow is that it is a colour intensifying sealer, meaning it really helped to bring out the black colour in the Limestone which had previously been affected by dirt and water ingress. The sealer will also provide durable protection against these types of problems in the future.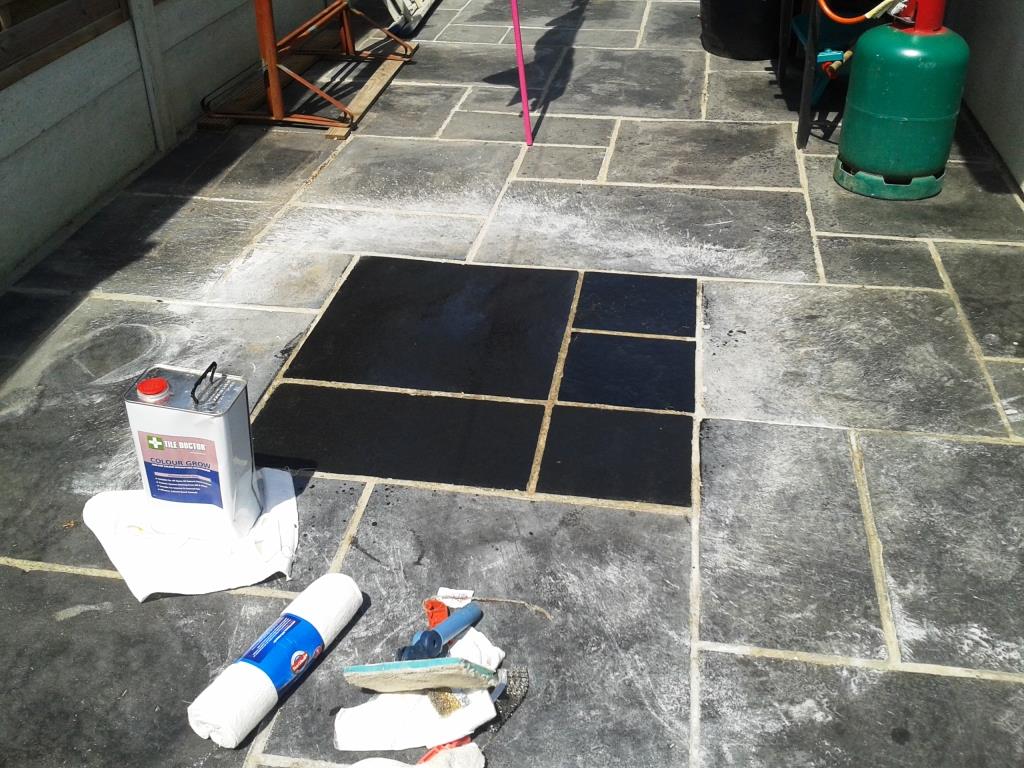 As you can see from the photos, the result of my test was very good – the stone became almost completely black once again, and the defects in the grout were successfully removed. Nonetheless, I decided to leave the test patch for a month to see how well it withstood the effects of the weather. The test patch proved very durable – proving that the sealing had been done properly this time – and my client subsequently hired me to restore the remaining 99 square metres of patio!
Cleaning a Stone Patio in Dorset